Ryogoku
Ryogoku is the neighborhood of the the world of sumo in Tokyo. It is located on the banks of the Sumida River, on the other side and 1.5 km further south from Asakusa.
El barrio
Almost everything that can be interesting in the area is somehow linked to the world of sumo.
The Kokugikan
The largest sumo stadium in all Japan.
The sumo tournaments are held in January, May and September. These tournaments are quite "friendly" to foreigners, in fact there are brochures with the programs in English, and you can hire radios that comment sumo matches in English.
The ticket prices vary from about 3500 yen to 8000 yen depending on the kind of seat and the remoteness of the seat from the ring.
Tickets can be purchased at the Kokugikan box offices, at the convenience stores (konbini), or even on the internet. More information on this website
http://ent-sumo.pia.jp/en/
.
Inside the Kokugikan there is also a little museum about sumo, all in japanese. It is open from 10.00am to 4.30pm from monday to friday and the admission is free. In times of tournaments only ticket holders can visit it.
Ryogoku is also home of many
beya
, the gyms where the sumo wrestlers train. In some cases, you can assist the trainings for free or making a offer.
To do so it it is almost essential going with some friend of Tokyo, or at least you have to speak Japanese. Trainings usually takes place in the morning and could happen to meet some sumo wrestler on the streets of the neighborhood.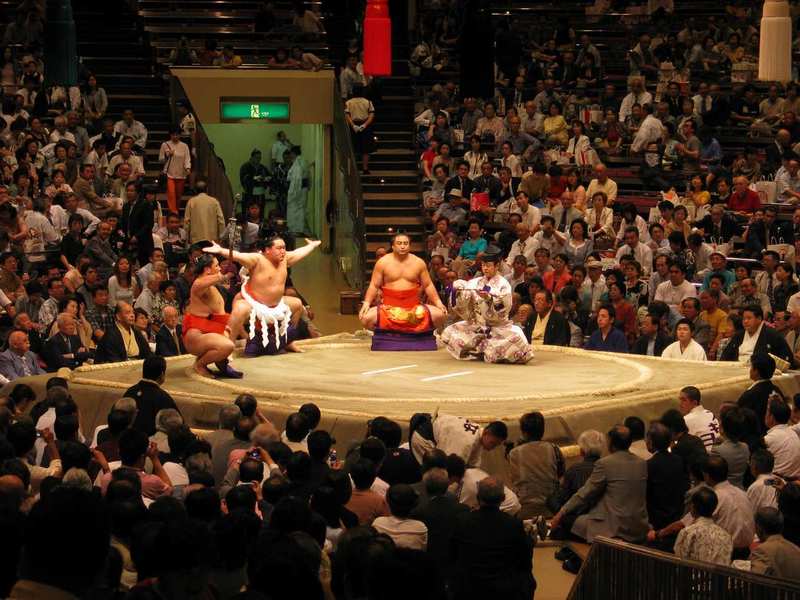 Ceremony before a match inside the Kokugikan
Edo Tokyo museum
(
http://www.edo-tokyo-museum.or.jp/english/
)
This museum has nothing to do with sumo.
This is an interesting museum that traces the history of Tokyo from when it was named capital during the Edo period, to the Second World War. There are many life-size replicas of historic buildings and exhibitions inside.
The museum offers lots of information in English and other languages.
Opening hours 9:30am to 5:30pm, closed on mondays. Admission 600 yen.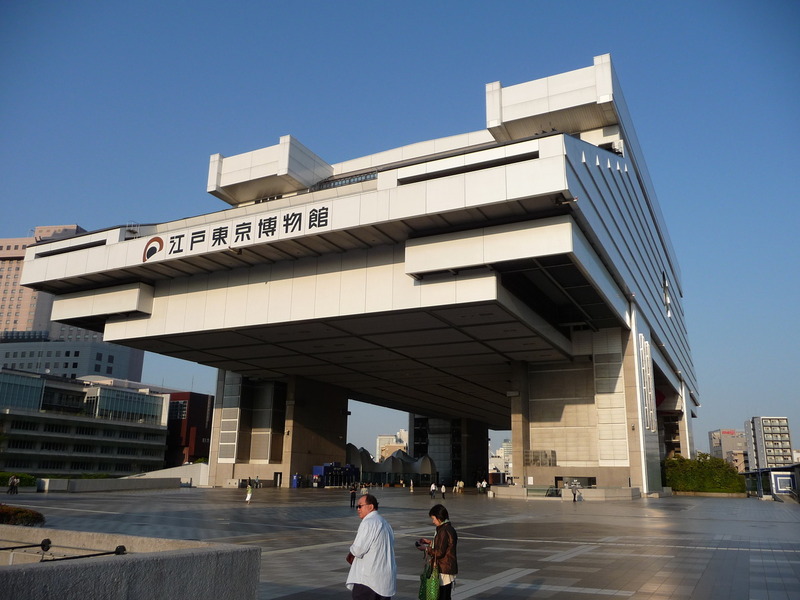 The modern structure that houses the Tokyo Edo Museum
Dormir, dónde alojarse en Ryogoku, hoteles recomendados
Ryogoku is not a recommended place where to stay, both for the far location from the center of the city, and because it is a zone without any nightlife.
Next to the Kokugican there are two big hotels, the
Pearl Hotel
and the
Dai-ichi Hotel
, but there is no reason to decide to stay overnight in Ryogoku, unless you are going to Japan just to see the sumo matches, which I consider unlikely.
On the other side of the Sumida River, in the area of
Asakusabashi
, there are some pretty cheap accommodations instead, especially the
Anne Hostel
, with dormitory beds as low as 2,600 YEN per night (breakfast included), the
Khaosan Tokyo Ninja hostel
, with dormitory beds as low as 2,200 YEN and double rooms from 3,000 YEN per person per night, and the small
Hotel Yanagibashi
, which offers single rooms with private bathroom as low as 5,000 YEN per night.
Comer en Ryogoku
Characteristic of the area are several restaurants that prepare
Chanko
dishes.
Chanko is a dish usually eaten by sumo wrestlers, super-heat, a mixture of many things both vegetable and meat and fish. The price range of this dish is high enough, at least 2,000 yen. In the map below I marked one of the best restaurants,
Yoshiba chanko
.
I also mention this place: the
Popeye beer club
. This is a pub that offers a wide selection of beers including more than 40 japanese "microbrews". It also serves food.
Guía practica, cómo llegar a Ryogoku y mapa
The only station in the area is Ryogoku station, served by the JR Chuo-Sobu line and the Toei Oedo line.
Visitas guiadas, actividades y otras cosas que hacer
Si estás planeando un viaje a Japón y deseas agregar algo especial además de la visita de los diferentes monumentos y lugares famosos, te sugerimos que uses el sitio
Govoyagin
. Este es un sitio muy útil para enriquecer tu experiencia de viaje, especialmente si vas solo o es tu primera vez en Japón y, por barreras de idioma y más, y no tendrás muchas oportunidades para interactuar con los lugareños y disfrutar de algo diferente de los lugares famosos marcados en las guías turísticas.
Qué es Govoyagin
Govoyagin es un sitio web donde puedes encontrar muchas actividades particulares en todo Japón (y no solo en Japón).
Puedes comprar boletos en línea para algunas atracciones famosas, pero también reservar tours y experiencias realmente especiales con los locales listos para guiarte y llevarte a lugares fuera de los circuitos turísticos que casi nunca podrías encontrar por ti mismo. Por último, puedes reservar una mesa en cientos de restaurantes.
Algunos ejemplos
Con Govoyagin puedes comprar boletos con anticipación para visitar la
Tokyo Tower
o el
Tokyo Sky Tree
, pero también reservar visitas guiadas de
los templos de Kioto acompañado por un samurai
, o ir por las calles de Osaka
en un go-kart disfrazado de Super Mario
, o incluso jugar videojuegos
contra un otaku japonés inmejorable
.
Por último, pero no menos importante, si necesitas reservar su mesa en algunos restaurantes, como los legendarios restaurantes de
3 estrellas Michelin
, también en este caso puedes encontrar este tipo de servicio a la venta en Govoyagin.
Echa un vistazo a Govoyagin
You may also be interested in